AKARUTHAL Diabetic & Hypertension Prevention Awareness and Kidney Disease Early Detection Project (Mobile)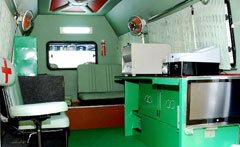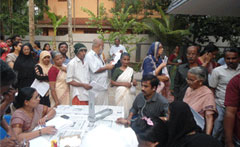 Woes and worries are part of life. But it is our choice to make it worth living. The dreadful life style diseases like diabetes, hypertension and kidney failure literally put the patients through an ongoing ordeal of suffering endurance. If we can prevent these diseases by changing the lifestyle we are also sparing our dear ones from the sufferings on behalf of us. "PREVENTION IS BETTER THAN CURE".
The new project is proposed to expedite with the assistance of other charity organizations. It comprises an ambulance with settled up lab facilities inside which travels around the rural and urban areas. We have 3 karuthal project ambulances providing these facilities. The mobile lab facilitates lifestyle diseases detection tests at a nominal rate. We approach the companies who have social commitment as a part of their corporate policy in order to raise fund for this project.