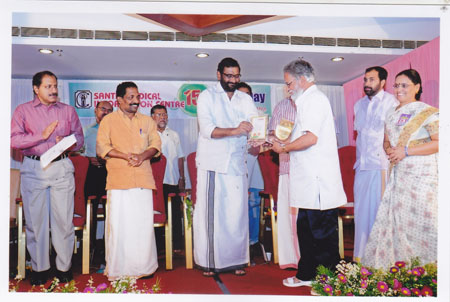 DEVASRAYAM PALAKKAD
To bring a little solace to those in pain To reach out with a helping hand to the disabled To give the orphans and the aged a life of dignity Requires only the willingness on the part of the fortunate to understand the plight and helplessness of the unfortunate. Devashrayam Charitable Society is one small step in a world where so much needs to be done. It is the result of a coming together of people who have the willingness and the passion to be of help - to the needy members of our society. The aim of Devashrayam is to become a vibrant nerve centre of activity to help every needy human being. It is a heartfelt and sincere effort to spread the much-needed awareness about the deprived sections of our society. The enthusiasm is contagious but lack of sufficient resources is the hindrance. To overcome this, we look forward to the philanthropic to contribute in whatever way they can. To earn the gratitude of those who do not have is the best way to celebrate life.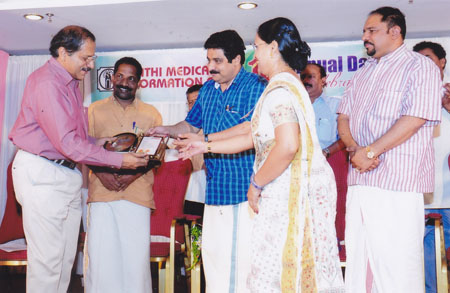 Manappuram Foundation Valapad
Shri V.P. Nandakumar is the Chairman of the Manappuram Group of companies based at Valapad, Thrissur. This Group of ten companies has diversified interests in Gold Loans, Asset Financing, Insurance, Foreign Exchange, Money Changing, Gold Jewellery, Healthcare etc. Its flagship, Manappuram Finance Ltd. is today India's first listed, highest credit rated and the most innovative gold loan company.The community is central: Besides focus on the business, the cause of the wider community is also central to his long term vision. The establishment in October 2009 of the Manappuram Foundation at Valapad has given concrete shape to the Group's commitment to Corporate Social Responsibility. Its first initiative was an original scheme providing health insurance to 20,000 Below Poverty Line (BPL) households in the seven Panchayats of the Nattika assembly constituency. They are now eligible for free medical care up to Rs.60,000 per year along with cashless treatment at some of the leading hospitals in Thrissur District. Recently, the foundation has launched a novel outreach programme aimed at empowering women belonging to the weaker sections of the coastal belt of Thrissur Dist. The project, named "Manappuram Sarojini Padmanabhan Women Empowerment Programme", will provide livelihood to disadvantaged women by opening up opportunities for self-employment in areas like poultry farming and cultivation of vegetables.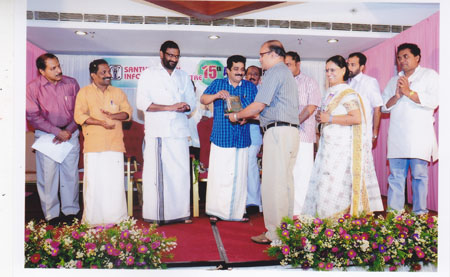 Thomas Chittilappilly Trust
From 2004, in the year The Thomas Chittilappilly Trust was formed, it continuously engaged with its philanthropic work towards the noble cause of serving the weaker sections of the society. Thomas Chittilappilly Trust as its headquarters at Kochi, founded by Mr. Kochouseph Chittilapppilly, a business magnet different in many ways, in fond memory of his beloved father late Mr. C.O. Thomas. Mr.Chittilappilly who runs one of the most trusted business houses in India, the V-Guard & Wonderla, wishes to support all charitable activities that contribute towards the social development of the country to the extent possible. The Beneficiaries of the charitable work of Thomas Chittilappilly Trust, over the last 7 years are among the deserved in the society. In association with Rajagiri Outreach, it sponsored children hailing from socially and economically back ward families to overcome their obstacles in continuing with formal school education. Apart from this, the Trust used to distribute study materials and school uniforms to students of selected area every year. As part of its activities towards the health care of the underdeveloped areas of various villages in Kerala, Tamilnadu and Karnataka, the Trust conducted free medical camps and provided insurance coverage to families of below poverty line. In June 2009, the Trust started 'Shanthimandiram', an Old Age Home at Parappur in Thrissur District, which provides care and protection to the needy and deserving elderly women irrespective of caste and community. With facility to accommodate 60 inmates at a time, Shanthimandiram is a govt.approved institution that provides all facilities to inmates on free of cost. The Trust not limited its helping hand to the above; but it provides financial assistance to various charitable organizations that are engaged in the upliftment and well-being of those who are socially and educationally backward, orphans, destitute etc. Thomas Chittilappilly Trust also provides financial assistance to the deserving persons who are suffering from critical illness for meeting their medical expenses.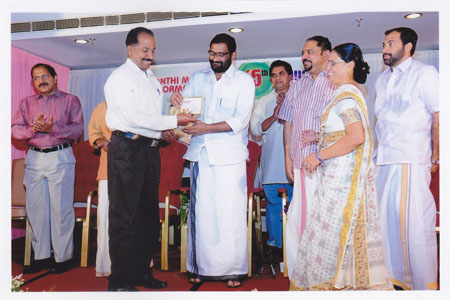 SWANTHANAM KUWAIT
"SANTHWANAM" concept was pioneered by a group of 9 friends in Kuwait , based on many human principles & values. SANTHWANAM's unpretentious beginning trace back to January 2001 when a group of 9 friends in Kuwait had given attention to a televised program about the pathetic conditions of deprived people suffering from acute diseases and struggling between life and death due to lack of medical care. The group decided to contribute a nominal amount on monthly basis to help such ill-fated people. Enormous encouragement and appreciation from friends, relatives and colleagues motivated the group to organize a voluntary forum called "SANTHWANAM". Today, SANTHWANAM entertains with more than 1600 dedicated like-minded individuals and has helped more than 2800 miserable persons to get medical treatment particularly in Kerala and other regions of India as well. "SANTHWANAM" provides financial assistance for an average of 45 poor patients per month for medical treatment. "SANTHWANAM" also extend its support to the needy individuals in Kuwait who are in urgent need of others help for repatriation and further medical treatment. Our Values Values that guide our actions, decisions, commitments and relationships. Our Vision Impart feel of love and hope, inspire to live, encourage to survive and work together with One Heart & One Vision for better tomorrow. Our Mission To bring as many as kind-hearted friends and relatives in a common platform and help the poor, diseased, distressed & homeless in the society. Our Challenges As we move ahead, it is our constant endeavour to respond to emerging needs with concrete and sustained services to reach larger groups of diseased, distressed, homeless, highly needy individuals and poor families of our society. With the continued support of many friends and well-wishers, we hope that our endeavours in enhancing the lives of people in need will get succeeded easily and straightforwardly. Our Goals & Achievements Looking back we see years of great challenges of our dedicated work – As it has always been our endeavour to respond to the call of people in sorrow and grief, SANTHWANAM came forward with medical treatment aid for many individuals & their families. Through intensive efforts on the ground, we have striven to keep our promises to the beneficiary communities. This placed a tremendous demand on performance from our kind-hearted members, friends, colleagues and well-wishers, which they executed with exemplary courage and dedication. We recognize with appreciation their efforts in the accomplishment of our commitments. We are very fortunate that we continue to receive the trust and support of many hundreds of concerned friends including individuals, visual/print media and some good establishments. This has given us a lot of strength and encouragement in our work. Our Hope As an organization working for the poorest of poor for medical care, and rehabilitation by realizing the human commitments, this has an increasingly important revealance for our work as we find more and more support, participation and action from different segments in the society. We are very hopeful that this will increase substantially as we take forward our work for the deprived and distressed in the society, and build our efforts to meet the emerging needs in future too. SANTHWANAM look ahead to expand the reach of new initiatives for the poor and helpless, and strengthening our on-going endeavours to serve them together with one heart and one vision. Our Gratitude We extend our sincere thanks to all our members, friends, supporters and well wishers who have steadfastly stood by us and believed in our work and efforts and hope that ours will be a long-term friendship of togetherness in helping the helpless of the society. It is our great pride to mention that our achievements would not have been resulted without the support and dedication of our noble friends and kind-hearted members.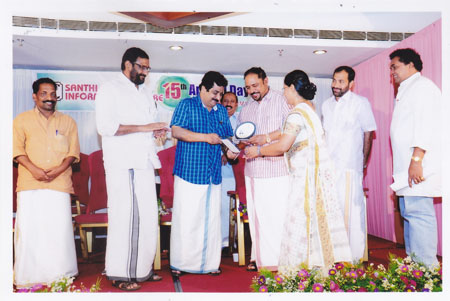 Sundar Menon – Life at a glance.
He is the Chairman and Managing Director of the Sun Group of Companies, a multi crore turnover group who is one of the leading oil and bunker concerns in gulf region employing highly skilled and huge labour force. He also has started business activities in India as a builder and developer through his company Sun (India) Homes and Developers Pvt Ltd. Charitable Activities Mr. sunder Menon is also actively involved in charitable activities which he considers as an act of honoring the rights of the lesser fortunate in the society and Pain and palliative care society ,Thrissur: Alpha pain clinic, SREEVALSAM EDUCATIONAL TRUST, Manassu" ,All India handicapped Association. President of the Kerala State Elephant Owner's co operative Society, controlled by the Govt. Of Kerala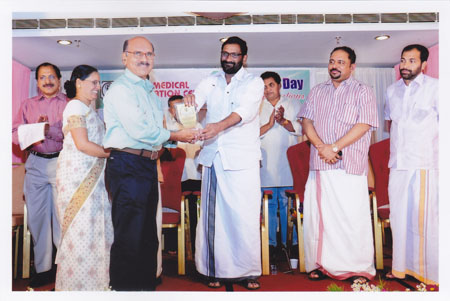 Muthoot M George Foundation
Muthoot M George Foundation is the Charity wing of the Muthoot Group, which extends financial support to the poor and needy, in deserving cases, mainly in the following areas. To patients who are in need of financial support for treatment & family maintenance. The expenses towards treatment are normally reimbursed directly to the hospital. To support poor girls for their marriage, especially in the case of girls who have lost both their parents, whose parents are terminally sick or daughters of widows. To support poor students to complete their higher education in their Professional Courses. Especially to girls from very poor families. Numerous organizations and individuals requesting financial and medical assistance approach the Muthoot M. George Foundation. Narrowing down on deserving beneficiaries is an extremely difficult task. Consequently, the Community Support Cell of the Muthoot Group delves into the issues to gauge the gravity of the situation, before reaching a consensus. Thus, community support by the Muthoot Group is an honest Endeavour in making an everyday difference in the lives of the people the group reaches out.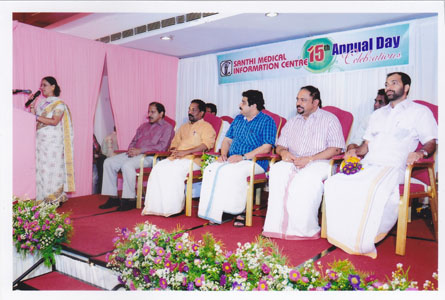 santhi 15th annual day function
Respected sir, At the outset let me express my deep sense of gratitude for the whole-hearted support extended towards the upliftment of this Institution. With your kind grace, Santhi has been instrumental in providing a ray of life to infinite number of poor patients, suffering from kidney failure. With your kind grace, last month we had done 791 FREE DIALYSIS for our 107 kidney patients. This month we got nearly 12 new patients. Therefore, our total this month dialysis number is 1097. I once again, thank you for the selfless interest that you have shown in our cause and hope that this alliance continues further. Convey our special regards to all family members. It gives us immense pleasure to inform you, that we would be celebrating our 15th annual day on 3rd September at Guruvayur Devaragam Hotel. TIME 1PM Hon'ble Minister Sri M.K. Munner would formally inaugurate the function SRI. R. SARATH KUMAR NOTED TAMIL CINE STAR AND MLA WOULD GRACE THE OCCASION AS CHIEF GUEST Hon'ble Municipal chairperson, Guruvayur Sri T.T. Sivadas, Hon'ble MLA, Nattika Smt Geetha Gopi, Hon'ble MLA, Kodungalore Sri T.N. Prathapan Hon'ble MLA, Kunnamkulam Babu Pallissery. The programme would be followed by an ona sathya with our patients and Celebrity Guest Sincerely, Uma Preman Santhi medical information centre www.santhimedicalinfo.org